At Authentic Health Studio Essendon, our mission is to listen to your needs, understand your goals, provide you with the best resources, and support your progress; so you look good, feel great and live your authentic life. Our semi-private personal training is the answer you're looking for.
We understand you may feel overwhelmed, intimidated, unfit, lack body confidence or simply feel embarrassed. But, we are not about size, we are about shape. We are not fad, we are lifestyle. We are not about image, we are about confidence. We are not about a number, we are about health. We will get you in the best shape of your life, feeling confident because you are healthy.
The Benefits of Semi-Private Fitness
Semi-Private Personal Training offers all the benefits of personal training while working in a 4:1 group environment.
You receive a thorough assessment, a personalised program specifically designed for you, you work with an experienced coach, learn recovery protocols, and are provided with detailed nutritional advice and a dietary portal for meal plans.
So why not take advantage of everything that's great about personal training but split the costs with a maximum of 4 clients in one session? The encouragement that you give and that you gain is motivation itself. That's a win for the hips and the hip pocket!
View our timetable here
Semi-Private Personal Training Features
Authentic Health Studio is excited to offer complimentary Boxing, Yoga and HIIT classes to all Personal Training (PT) and Semi-Private Personal Training (SPPT) clients. These premium fitness classes are extended to both existing and new clients.
Not only do you reap the rewards of our specialist 1:1 personal trainers or 4:1 semi-private personal trainers with your personalised fitness routine, now you can elevate your program further with free boxing, HIIT and yoga sessions.
Incorporating boxing into your training schedule will increase your stamina, refine your motor skills and improve your cardiovascular capacity.
Incorporating HIIT into your training schedule will boost your metabolism for 24 hours beyond your workout providing above average calorie burn, plus maximise your endurance and power.
Incorporating yoga into your training schedule improves balance, flexibility and issues associated with joint pain. There are also several mood enhancing features that help manage stress, promote relaxation and support better sleep.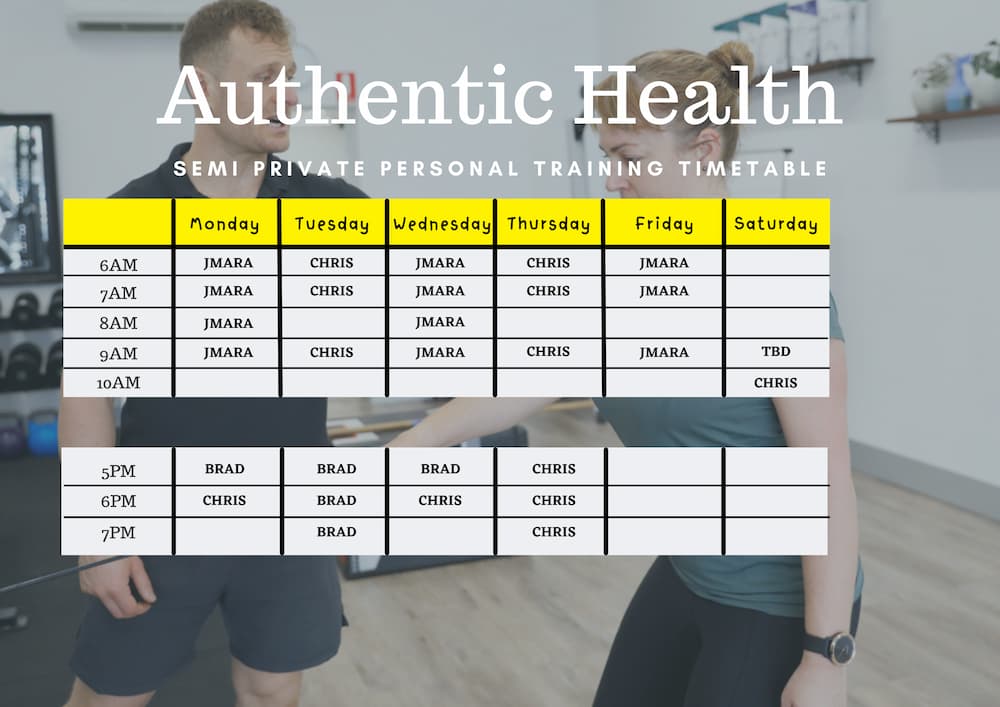 This Time Do It For You
The first step you take is your own, but after that, you are never alone. Trust Authentic Health to show you the path to looking good, feeling great, and building strength in your personal and professional life.
Take this moment to put yourself first. All you have to do is Book A Free Consultation.